A pub with a resident artist
Rhonda Dredge | 15th July, 2021
During the long days of winter last year, the Doutta Galla Hotel in Racecourse Rd encouraged its staff on JobKeeper to come up with creative ideas for the business.
Jethro Pitcher worked as a bar manager and he began doing some drawings.
Unbeknown to the pub, he had a background in art and design but his work was mostly fantasy.
He did a few sketches of popular dishes and drinks for the pub's online menu and these showed a penchant for illustrative flamboyance.
"I'm now the resident artist and bar manager at the Doutta Galla Hotel," Jethro said with a bit of a swagger.
His original drawings of ice cream sundaes, bowls of chips and bottles of wine now welcome the browser online with their swirly line and Simpsons aesthetic.
A graphic for Valentine's Day during COVID-era social distancing includes pithy slogans such as, "I love you from over there."
All of the works are drawn on a tablet in Photoshop. "I've learned a lot about composition and colour palettes," Jethro said of the process.
"It's very, very straightforward. You can undo mistakes immediately. You pay $11 monthly for the program."
He seems to make it all seem so easy but the reception to his work has given Jethro confidence and he has scaled up from social media posts to three large digital prints which now hang in the lounge to support the pub's live music on a Sunday.
The first print represents rock n' roll, the second electronic and the third is a Kabuki punk, making the Doutta Galla Kensington's artiest pub.
"This came about because of lockdown," Jethro said. "The owner wanted us to do work on projects. He was very encouraging."
The pub was built 130 years ago and named Doutta Galla after the local indigenous people of the area.
"I've seen pictures on the heritage list with parts of the street and horses and carriage and it's like another world but the pub is the same," Jethro said.
The pub sources unusual lights and candles, creating a lush, old-world interior. "It's all about the vibe. Honestly, I love it. I've worked a lot of bars. This my favourite place to date."
He's encouraging clubbers on their way to the city to stop by for "a cheeky meal before you get too loose." •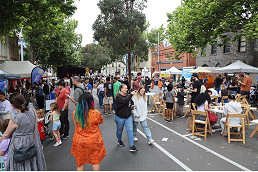 November 15th, 2023 - Felicity Jack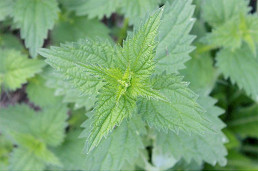 November 15th, 2023 - Jacqui van Heerden

Subscribe
to
all
the
news
Like us on Facebook
Download the Latest Edition