A slice of France in North Melbourne
Jack Hayes | 14th September, 2022
Famous French chef, Auguste Éscoffier, a man dubbed "the king of chefs and the chef of kings," once said "good food is the foundation of genuine happiness."
A great meal can be a truly transformative experience. It can take you to another place, to another time; it can bring a smile to your face, and it can form the foundations of life-long memories.
When shared with others, as head chef and owner of Erroll St's Bistro De Paris Sathya Manisekaran will tell you, a meal can be a magical experience.
Chef Sathya moved to West Melbourne in early 2020 after spending a decade refining his craft in some of London's most famous restaurants.
He worked under celebrity chefs like Anthony Demetree at one Michelin star restaurants Arbutus and Wild Honey, then with Emmanuel Bonneau at the two-star London Hilton on Park Lane.
Under the eye of London's best restauranteurs, chef Sathya evolved from chef de partie (station chef) to sous chef (second in command), then to head pastry chef, all the while honing his techniques in modern European cooking.
"It was a very busy life working in Michelin star restaurants. I would work from 7am until midnight," chef Sathya said.
"It was where I learned a lot of techniques and recipes, both classic and modern European and it was where I found a passion for French cuisine."
"When I came to Melbourne, I noticed there was a lot of Italian and Asian restaurants, but not many French, and definitely not many French restaurants with an affordable price point."
In May this year, chef Sathya opened Bistro De Paris and the response from the local community has been overwhelming.
According to chef Sathya, he has a base of about 60 to 70 local residents who have turned his restaurant into their go-to for casual dining that champions quality and seasonal produce cooked with modern techniques, served in a relaxed environment with a surprising affordability.
Guests can choose from an a la carte menu which features French bistro classics such as escargots, cheese soufflé, French onion soup, traditional bouillabaisse, and expertly prepared, simple steak dishes with béarnaise sauce.
"Our signature dish is braised pork belly and celeriac remoulade," he said. "Normally, you see it cooked flat at a high temperature with crispy skin. We do it differently. We salt and cure the pork belly, stuff it with herbs and dry overnight. We then braise it for 8 to 10 hours, let it cool down and roll into a remoulade. Then we crisp up the skin just before service."
"Our Sunday roast is also very popular. We want to welcome in locals and families who don't want to spend too much time cooking on the weekend and relax with their loved ones."
In early October, chef Sathya will launch a new pastry element to Bistro De Paris, where his restaurant will be open for breakfast, lunch and dinner, with the new offering featuring signature pastries like eclairs, crème brulée and macaroons.
Bistro De Paris is located at 63 Erroll St, North Melbourne and is open for dinner 5pm to 9pm Tuesday to Sunday and for lunch on Sundays from 12pm to 3pm. •
For more information: bistrodeparis.com.au
Caption: Bistro De Paris head chef and owner, Sathya Manisekaran.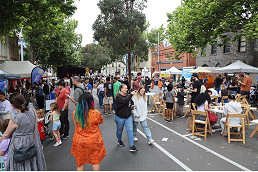 November 15th, 2023 - Felicity Jack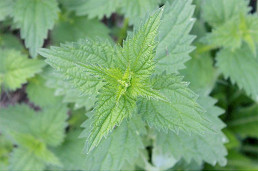 November 15th, 2023 - Jacqui van Heerden

Subscribe
to
all
the
news
Like us on Facebook
Download the Latest Edition