A vignette of gallery life
Rhonda Dredge | 14th December, 2022
It took three days for the curators to hang their end-of-year exhibition in Victoria St this year and they spoke to North West City News about their process.
Usually there's a theme but this year they just wanted to get people into the gallery.
The opening was huge, 30 artists were happy and so were the curators.
"We wanted a lot of people to celebrate their work," said Katrina Beale, director of the gallery, and co-curator of Stellar 2022 with Mariella DelConte.
Curators work behind the scenes and they usually talk about the artists rather than themselves so they're not used to answering questions about their profession.
"Speaking more broadly, it's about our special relationship, what we agree on," Katy said. "Curatorship is calculated decision-making."
When she first opened One Star, Katy wasn't as confident about her role and where the gallery should draw the line in terms of accepting artists.
Bill, who lived in a homeless shelter, was one of her first customers. He slipped a photocopy of his work under her door then came in every day.
"I used to get sleepless nights," she said. "What was the right thing to do? Did I have to accept everyone? I wanted this to be an accessible place for local people. Do I only want a certain kind of local people?"
Katy said it was draining at first when the homeless artist came in but he was knowledgeable and art was a solace to him. She put a couple of his things up.
Mariella also began small, curating in whatever "shoebox" she could find, beginning in her doctor's surgery with a show called Fluffy to help out with drug and alcohol rehabilitation.
Her practice has grown from then to the recent St Kilda Large Sculpture Show and she has collaborated with Katy on the group shows.
"Katy and I spent years together every Wednesday looking at work," Mariella said. "We knew every gallery. The city was rife."
That long period of working together has paid off for artists in terms of the placement of their work and sales.
"I think things sell themselves," Mariella said, "but you have to work the floor. I like to have something interesting to say that is not apparent. People don't look at stuff for long. I think explaining things is where a good gallerist or curator comes in."
She said you have to love the work. "You've got a much better chance of communicating that love. Katy paints stills from movies. That's something you might not know."
"One of the first artists I worked with was Michelangelo. Most people wouldn't know what the encaustic painting method is. It's from the Egyptian. Or Anne. She lives on Bruny Island. Another artist's father was a psychologist, and he grew up in a mental asylum."
She said there were 70 works, all of them different, and how they were presented was a creative process. One way of hanging a show is to begin in black and white and slowly build up the colour. Stellar was hung in little vignettes.
Stellar 2022, One Star Gallery, until December 10. •
Caption: Katrina Beale and Mariella DelConte at their end-of-year exhibition.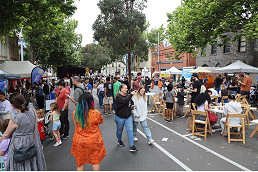 November 15th, 2023 - Felicity Jack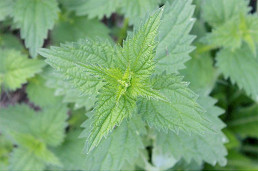 November 15th, 2023 - Jacqui van Heerden

Subscribe
to
all
the
news
Like us on Facebook
Download the Latest Edition