Art hot spot for the 'hood
Rhonda Dredge | 18th October, 2021
There's a stretch along Victoria St, West Melbourne, where artists, known and unknown, have been at work during the pandemic.
The wall of Common Ground was painted by someone who dropped into the café one day.
And the window of One Star Lounge just up the street has a sign saying "Group Show."
Passers-by have these local art patrons to thank; a gallery with a changing window display and a café owner with an artistic bent.
"He was just off the street," said Anthony Yap about the guy who did the graphics on his wall 18 months ago.
The large illustration of a smart-looking woman drinking coffee reminds locals of Velma out of Scooby-Doo, probably because of the glasses.
In Group Show at the One Star, a more sombre aesthetic is at work. Often you have to peer through the window to catch the gallery's latest take on life.
The latest exhibition has been extended because of the lockdown and captures the ghost in the machine we're all struggling with.
There's a casual painting on a stand, a couple of photographs and an abstract in the right-hand bottom corner. In the background a figure sits next to a hunk of metal on a pedestal, legs dangling over the side. The work is called Monumental Failure by Brendan Noonan.
This ability to laugh at your own pretensions is a hallmark of outlaw art and also a site-specific response to the cowboy setting, the wide verandahs and empty streets of the One Star Lounge.
The commissions inside Common Ground have a casual aesthetic where other artists have been invited to make their mark.
Raymond Lim has painted a mural of food around the door to the kitchen.
"He's another friend who comes in for coffee," Anthony explained. "I like some of his drawings. He designs tins for a brewery in Brunswick."
Anthony used to have a Subway franchise but he branched out two years ago to give his wife, a pastry chef, a chance to practice.
Her beef rendang pies, fragrant chicken dumplings and coconut slices are also on display and are part of the attraction.
Anthony's own photographs are up on the wall, one of a Japanese maple in the Dandenongs that turns pink during a particular week in autumn and one of Hardware Lane turned into a fantasy shot.
"I'm just an amateur," he said, but at least he has struggled on during the lockdowns creating an art hot spot for the 'hood •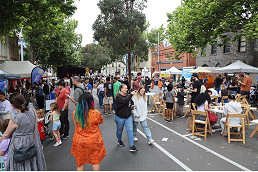 November 15th, 2023 - Felicity Jack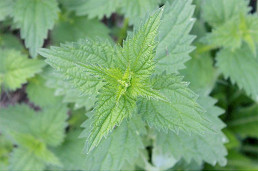 November 15th, 2023 - Jacqui van Heerden

Subscribe
to
all
the
news
Like us on Facebook
Download the Latest Edition