Gasometers
Felicity Jack | 18th March, 2022
Once a prominent feature of most towns but when I have asked people if they know what gasometers were, most people under the age of around 50 have looked at me blankly.
Those familiar with Melbourne's pub life may questioningly relate them to the Gasometer Hotel in Collingwood.
Gasometer is a misleading name because it suggests measurement. In fact, they were large cylindrical storage tanks with a permanent external structure but an internal device that rose or fell according to the volume they were holding. This was achieved by a series of canisters floating on water that would vary the height according to the quantity of gas pumped into them. One North Melbourne resident remembers how they would notice the full gasometer early on a Sunday morning and see it fall as the day progressed and Sunday roasts emerged from family ovens.
During the second half of the 19th century gas was produced through the burning of coal. The Metropolitan Gas Company ran Melbourne's gas supply until the formation of the Gas and Fuel Corporation took it over in 1960. It inherited 30 gasometers located throughout the metropolitan area, but, as natural gas replaced coal gas, these gasometers were gradually dismantled.
One of Melbourne's notable industrial accidents occurred on Easter Sunday, April 4, 1920 when gas pumped from North Melbourne to the gasometer on the corner of Pickles and Graham streets in Port Melbourne, caught fire. Flames were estimated to rise 40 metres and could be seen as far away as Hurstbridge, more than 35 km from the disaster. Many people received more or less serious burns and buildings were scorched.
The North Melbourne gasometer, located on Macaulay Rd, was probably built in 1887 and overlooked the Arden Street Oval for many years until it was demolished in 1978.
The structure also provided a metaphor : the "Galloping Gasometer". Mick Nolan was a North Melbourne ruckman between 1973 and 1980. He played 107 games and kicked 40 goals. Despite his size – he weighed 135 kg and measured 194 cm – he was extremely agile. He was given the name by commentator Lou Richards and became a cult figure in Australian AFL.
This 1960 photo shows North Melbourne players Albert Mantello (bending over), John Jenkins (no. 5), and Frank Galle running in. Ted Whitten makes the high leap for Footscray, with an unidentified Footscray player on the far right •
Photos supplied by Bill Liddy.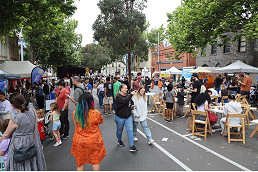 November 15th, 2023 - Felicity Jack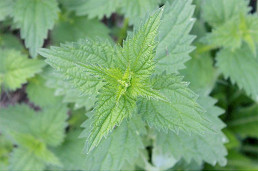 November 15th, 2023 - Jacqui van Heerden

Subscribe
to
all
the
news
Like us on Facebook
Download the Latest Edition