West Melbourne loses a gallery
Rhonda Dredge | 14th March, 2023
A small independent gallery in Chetwynd St is being forced to close after three years, reducing the number of galleries in West Melbourne to two.
The directors of Meow, in an unmarked terrace at number 16, received an eviction notice on March 8.
"We're pretty disappointed," gallery director Hana Arles said. "We've had to cancel shows. We're booked up until November."
The façade of the heritage cottage will be retained but the rest demolished to make way for a box-like structure containing two units.
Ms Arles said they were considering moving the gallery to Berlin where one of the directors lived.
"It's much cheaper in Berlin than here," she said. "They have a different culture around renting. Tenants have more power, and the culture is not moving towards development."
Meow is one of a group of small galleries that has opened to cater for a younger group of artists coming out of college.
"There are a lot of new spaces that show really good work in Melbourne in the past five years. It's been a really exciting time," Ms Arles said.
The impetus has been a mistrust of the older artist-run spaces which generally receive grants and charge as much as $1000 a week for artists to show.
They're not really accessible to artists of our milieu. The curating is more admin than it is artistic.
She said the closure of Meow would put artists in a precarious situation for "more artists are seeing the glamour of doing something yourself and the freedom".
The gallery attracts those "who don't conform to a set of guidelines", she said. The property, which was deemed unliveable, was found by searching for storage spaces in the inner city that could double as studios.
The one downside in terms of viewing art is that Meow was only open on Saturday afternoons. Its last exhibition will be from 6-8pm on Saturday, March 18.
At the other end of the commercial spectrum is the West End Art Space in Adderley St, which occupies the foyer of an apartment block.
An exhibition Cloud 9 Paintings by Johnny Romeo opened on March 8, which the gallery is promoting as "visually accessible pop culture".
Johnny Romeo lives in Sydney and Los Angeles and is not averse to self-promotion. His large jokey works are unashamedly slick and offer a pastiche of references.
Bus Stop, for example, combines a portrait of David Hockney with an umbrella from a famous 1958 Magritte painting and references the song by The Hollies.
Cloud 9 Paintings, Johnny Romeo, West End Art Space, until March 25. Hana Arles & Anabel Robinson, Meow, 6pm to 8pm, March 18. •
Captions: Hana Arles at Meow with paintings by Grace Anderson, Meow galley in Chetwynd St and Bus Stop by Johnny Romeo.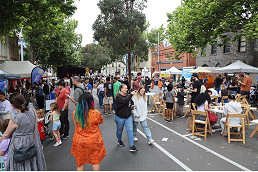 November 15th, 2023 - Felicity Jack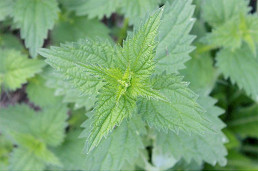 November 15th, 2023 - Jacqui van Heerden

Subscribe
to
all
the
news
Like us on Facebook
Download the Latest Edition